Maryam Ashtsham // Maryam Art Studio
Star Castle Spotlights are monthly artist spotlights that feature one of the many artists/makers that inspire the Star Castle community.
Maryam and I connected via Instagram awhile back, bonding over fine art and the nuances of running a creative online business. I'm awed by her resilience, her unique eye for creating intricate collages, and her playfulness with color & form.
This unstoppable momma is working to build a business from her passion – art. Like many of you readers out there, she's faced a few hurdles along the way. I hope reading through her journey inspires you to push through on your own.
Remember to give Maryam some love on Instagram! We are all stronger together.
What is your artistic passion & how did you first discover your love for it?
I am London Based Artist and Mom of 3 boys. I believed in challenging myself and my creativity urged me to produce unique artwork. My work is characterized by colourful abstract and mixmedia Art inspired by anything, everything & infused with positivity.
My Art is Full of Joy & Colours and reflects Nature".
Art has always been part of my life in different ways and now it has become an obsession. I enjoy experimenting with different materials and techniques, so I select the material mindfully and start to create an exceptional and unique piece of art. The end result gives a powerful reflection of inspiration and challenges that I gather from the beauty I personally see in the world.
🌈 Maryam Art Studio 🌈 was born out of a combination of my passion and my love towards art and colours, which allows my perspective as an Artist to remain traditional and bright.
Making art is my passion
When I am not busy working on a project, I am thinking about new ideas. Art is how I battle against the indifference of humans and offer new ways of viewing the world.
How would you describe your unique art style?
Art full of joy & colours
What would 'success' look like to you with this passion of yours?
I want to see myself working as As a full time Artist. I want to get so busy in making Art for others that my husband can leave his 2 jobs (which he is doing to run our family), relax and start spending more time with us at home.
I want to create Art all day everyday.
How do you know when a piece is 'done'?
Some voice come from inside tells me it's finished... until I hear that voice, I won't stop...
Please share a bit about the studio / workspace you've created to work in and how that impact your progress & final product.
I have a small room in my home that was supposed to be my older son's room, but I took it to make it my studio – my happiest place in the world.
What has been your biggest struggle to getting where you want to be creatively and how did you overcome it?
Money is a big obstacle.
I have no money to display my artwork in art fairs and galleries, no money to frame my artwork, and no money to take part in small markets and exhibitions. I just have enough money to buy my art supplies every month to create some pieces of art.
So I choose a free platform, social media, to put my work in front of art lovers so they can view and purchase my art.
Do you have any advice / tips for someone looking to dive deeper and pursue their own creative passion?

I believe art should be affordable for every budget. I believe that all art lovers should have a chance to buy a piece that sings to their soul because traditionally art was only affordable to the supper duper wealthy.
We all have bills and budget to live and I love my art is accessible to people on every budget.
Always use the best material and finished every piece to the same quality A mini artwork should get the same VIP treatment as a 2m long canvas.
Let's spread the art without breaking the bank.
Do you sense how all the the parts of a good picture involved with each other, not just placed side buy side?
Art is the creation for the Eye and can only be hinted at with words.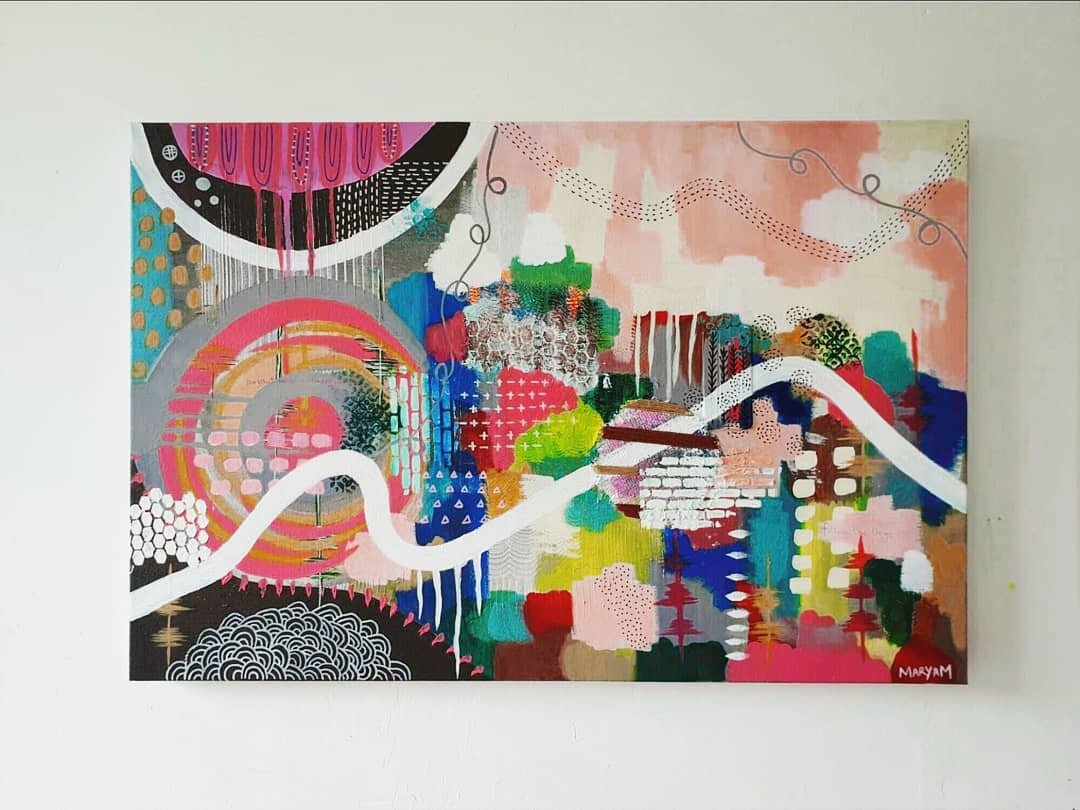 "Establishing a creative business is not easy."
"It is a process and you learn small things everyday."
💟 Speaking my heart out... 💟
I've had a dream to establish my creative business for a long time and now I can see some light of hope... now somehow the dream is starting to take shape.
Establishing a creative business is not easy.
While getting to know all the behind scenes– how tough it is to manage website, social media, posting your item on different shops/platforms and divert traffic to your website, find your Ideal customers – it's been hard to that find time to create.
I have no special education in business, but with the time and an effort l am putting in this, I have gradually started learning new skills to run my business. Of course, I still have a lot to learn, but I realize one thing: that it is a process and you learn small things everyday.
I don't know If I will be successful one day but at least I am trying and for this I am happy & fingers crossed. Making Paintings is my passion but to have business out of it is comes out with a dream to help my husband in financial matters.
I am not working because I have to look after 3 young children and they are our 1st priority so we decided that my husband will work & I will look after our kids for now.
He is doing extra hours of work and even working on weekends after a whole week of hard work since he knows he is the one who have to pay the bills & rent in the end. 😐 A thought is always running in my mind and I can't take myself out of it: a dream to help this man and share his burden so he can have some relax time. I am proud of him as he never complains & just continously does all the hard work with a smile on his face. ❤
So now all my goal is to support him so he can relax on weekends & enjoy that time with us.
Follow Along with Maryam:
You can learn more about my Star Castle Spotlight series and apply to be featured here.
Looking to build a brand around
your

art?

I know you have your own artistic passion that you're ready to take to the next level.
Let's work together to build a unique brand you can be proud of.

Schedule a time to chat with your new design sidekick (me!) — tomorrow you'll wish you had started today!